February 1, 2012 - NPH International Family Weekend - Go and See Them - In Beautiful Dominican Republic
Thanks to Casino Rama - Cedar Crew
I've just returned from my recent trip to NPH (Nuestros, Pequenos Hermanos), Dominican Republic and let me tell you it was quite the experience. If I thought before my trip, that I had nothing after losing my job in January of 2009, these people never had it to begin with.

To say the least the trip was a humbling experience as well as a learning one for me in my new field of Reflexology. It was a pleasure to help the Tia's at the orphanage to relax and enjoy being a "princess for a day" – The loved having their feet massaged as they look after 10 – 12 kids a day – 6 days a week and then in their spare time – they go home to their own families and do exactly the same thing.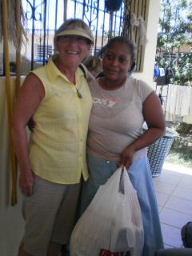 I'd like to send a special thanks in this newsletter to a special group of people that have helped to make it happen and whose generous donations were so appreciated by the Tia's (aunts to the orphans) the pequenos and of course, The woman Wanda in the pictures below.
Since I personally packed and handed her the bag – I saw first hand her appreciation and gratitude.
To Cedar Crew at Casino Rama – Thank You from the bottom of my heart for your generous and thoughtful donations because Wanda was the recipient of some of them. You really did go above and beyond – and I am proud of all of you. (and you can certainly run a restaurant in style and great taste! – especially that bread pudding…..)
As with most villages in the DR, there are the haves and the haves not, but NPH tries to give to those that were also giving within their own community.
Part of your donations were delivered directly to Wanda – a single mother of two, living in a makeshift home (built by NPH after the last hurricane destroyed the homes in the village) and part of a community within that small village. And so Wanda was designated for this particular trip along with two other individuals.
In the bags given were childrens' slippers, socks, toothpaste, shampoo, clothing and as much as we could pack into the bag. Two other homes in this village also received a similar bag however I am sorry, but I don't have pictures of it.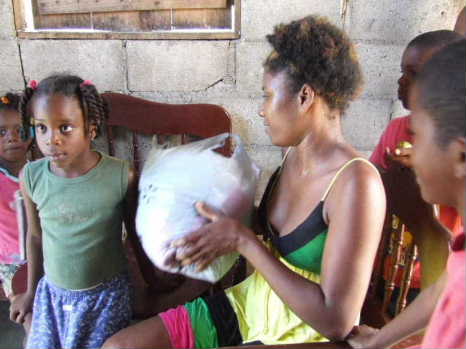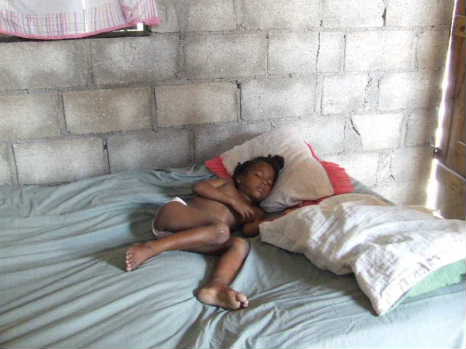 What you see in the house is all they have – two chairs and a mattress on the floor.
So thanks again, Amigos. You done good!
And thanks for helping me to get it there. You guys have been a shining beam of support in my life for some time now. Keep shining like the amazingly caring unique stars you are.
And be sure to call me for a free reflexology session – just email me at Linda@footflexes.com and we'll set up an appointment of thanks.
Linda Ley
Linda@footflexes.com
https://www.footflexes.com