NPH Nicaragua
October 2011 Update to Completion of Medical and Visitor Centres in NPH Nicaragua
Since my visit in January of 2011, much more work has been done in Nicaragua and the children have moved to their new home. I will be returning in October to see the progress and to prepare for upcoming 2012 trips.
See their story here. And stay tuned for further updates
This Video Below Shows The Home They Move From Just Recently
And The Reason They Had To Move
NPH Nicaragua - a gift painting from the children
In January 2011 I travelled to Nicaragua and visited an orphanage there along with 8 other Canadian travellers. What an amazing journey in a land filled with the wonders of nature and a hotbed of political activity.
Some of you may remember in the 70's, the last time the world experienced an oil shortage and economic downturn, that

Daniel Ortega

and the

Sandinista Liberation Army

of Nicaragua were struggling to gain political power and control over Nicaragua. You may even remember the journalist who was shot on television in front of millions of viewers in regard to this horrific historical time.
What many of you have not seen - is what happened to the children of Nicaragua - born of insurrection and war, hatred and political strife and left to fend for themselves in a country too poor to help themselves, let alone the children of war.
And all this is in a volcanic mountainous terrain that leads to painted posts along sides of roads to tell you which political area you happen to be in - red and black poles belong to Daniel Ortega and the Sandinista - Managua is the capital and Home to the

FSLN - the Sandinista Liberation Army.
After Landing and drivng two hours to NPH Nicaragua, we were welcomed to our Casa (above) a home vacated by 20 boys to welcome visitors from Canada. Visitors who will come again in 2012 and bring with them more groups of visitors and help to their family - all orphans raised and educated, loved, housed and fed by one organization -
Nuestros Pequenos Hermanos
.
Read the story on the priest ,
Father Wasson
who started it all - it really is quite amazing . Today there are NPH homes for orphaned children all over Central America, Mexico and South America.
And the work they do is amazing - but they need your help too!!!
For a cost of $2500 - you can arrange to go to any orphanage that is part of NPH and be a part of the humanitarian effort this world so needs at this moment in time. In conjunction with NPH is a Canadian Charitable Organization that organizes and supervises the trips. This Organization is called
Friends of the Orphans Canada - FOTOCAN.
With your donation, you give $1,000 directly to the orphanage of your choice and the balance pays for your two week stay in the country of your choice . For two weeks, you partake of games, workshops and medical and construction projects to help them live their lives day to day in peace, love and a dynamic family atmosphere.
There is no place else on earth where over 200 children sit to eat at tables in one home each and every day as one happy family and give thanks for the fact they have each other and love. And that love and concern is genuine - a kinder more loving people who sincerely appreciate your coming to them and being a part of their lives.
The Vancouver Team brought with them two full boxes of brand spankin new books for the children - all in spanish and donated by a wonderful Vancouver Book Store - what a treat !!
We also purchased and installed mirrors and shelving in all the washrooms of 12 Casa's, purchased 3,000 plastic hangers and 6,000 clothespins, shower curtains, 12 Irons and much more.....
Construction Crew showing
off their brand new work boots and gloves
..beats open toed sandals to build the school...
the courtyard inside the hotel in Granada , Nicaragua
No other organization that I know of, assists orphans in a way that this organization does. These orphans are NEVER adopted out. Once they arrive at an NPH Home - they are taken for life if that is their choice. They are fed, housed, educated and loved and all children call each other sister and brother - from eldest to youngest - and ALL have the same respect and adoration for their new found home.
Once they finish school, the older children then have the option to "give back" a year of service to their family - and they can always choose to help out later in life but some go on to be successful and prosperous in their own right - having been given the opportunity through NPH
If you would like to know more information or perhaps go on one of these trips yourself - contact me (Linda) at
footflexes@gmail.com
with the words
"Let Me Help Too"
in the subject line of your email.
I'd be happy to send you any information you need. If you think you'd love to go but just can't find the cash - think proactive and ask yourself - what's the best way to get a tax deduction for a caribbean vacation?
For more information and pics on my trip to NPH Dominican - see my website
and how some staff at Casino Rama privately helped out then
FootFlexes | Promote Your Page Too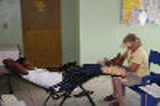 Energy and Balance
It is important that our bodies receive positive forms of energy most of the time. It is from positive energy that we attain good health, peace of mind, and quietness of the spirit. We can get positive energy from many sources – from proper nutrition and exercise; from exposure to ample sunlight whenever it is safe; from the love, affection, and respect we get from family, friends and peers.
Unfortunately, where there is positive energy, there is also negative energy. We get more than our fair share of it in our daily lives. Fear, stress, anger, hatred and disappointment are all forms of negative energy. We may consciously forget about these things, but our body stores memories of these in energy centers called chakras. When there is too much negative energy in our body, it can lead to illness, both of the body and of the spirit.
Check Out Ka Gold Jewelry By Meaning
Abundance Ring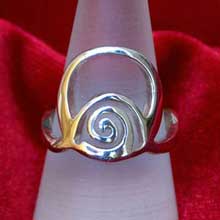 Sacred GeometryKa Gold
This is where I purchased these beautiful pendants shown below and the Abundance Ring above.
What a great way to get silver into your personal economy and also the energy of sacred science.
The Key of Success Sterling Silver Pendant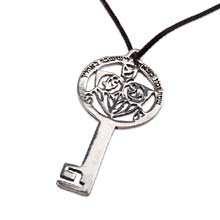 As You Can See, I Love Silver. And I Love The Key Of Success Pendant From Ka Gold All I Can Say Is - The Energy Is There And It Works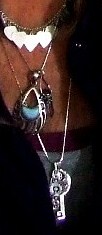 The Mother Earth Sterling Silver Pendant
Healing with Cosmic Jewelry
What symbolic jewelry or cosmic jewelry aims to do is to help us attune ourselves to the power invoked by the sacred words and the sacred geometric forms in order to restore the balance of energy and to flush out the accumulation of negative energy in the body. These sacred geometric patterns are found in Nature herself, and the power that they invoke is present in Nature.
By letting ourselves become open to the frequencies that the sacred patterns in cosmic jewelry invoke, we attune our minds to receive the energy channeled by that pattern. At the same time, we also awaken the energy centers in our bodies – our chakras. The same thing happens with invoking sacred words. These words allow our minds to become open and more receptive to healing. The body then responds to the energy and uses it for healing itself. The process becomes even more powerful when the intention of the person who crafted the sacred jewelry is truly aimed towards helping and healing.
"Energy follows thought" is a favorite adage among holistic healers. We allow our bodies to heal by letting energy flow through us and realign us. We allow ourselves to receive this energy by opening our minds and attuning our bodies to the frequencies invoked by sacred words and sacred forms. Wearing symbolic jewelry or cosmic jewelry gives us the means to harness the healing power of these sacred words and sacred forms, and to facilitate the healing process.
Galactic Harmony Sterling Silver Pendant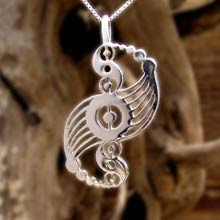 alchemy Sterling Silver Pendant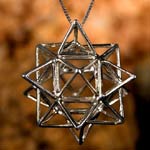 FootFlexes Indroduces Mobile Ionic Foot Detox Baths $55.


The Dance of Light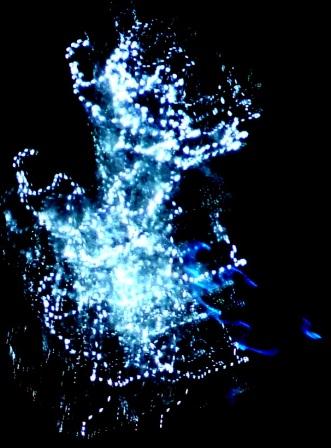 The Light of Christmas!!!